Paragon Expands into Dota 2
---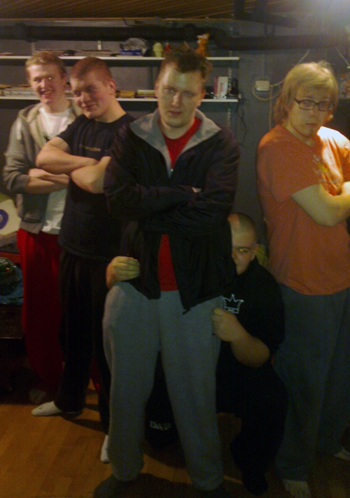 Paragon is expanding!
This has long been in the works, and in the celebration of ParaCon 2012, we are proud to present our new Dota 2 team, nicknamed Finnstack. This top-tier team consists of Jab3, Trixi, Rexi, Fragi, and Duqi, whom you will be able to see representing Paragon in all the large future Dota 2 tournaments and to personally meet all of them at ParaCon 2012 later this year.
We asked the new team to give a few comments about how they're feeling about joining us:
 

"Jabe is here." -Jab3, Team Captain

"Ihan vitun jees." -Rexi

"We are so happy to finally be a part of a fully Finnish organization." -Trixi
We are more than happy to have the guys under the Paragon tag - welcome aboard!
Member profiles
Duqi

Age: 22
Blood type: A+
Eye color: Bright blue
Zodiac: Taurus
Legendary HoN player from FnaticMSI. The carrying force of Finnstack. Took an arrow in the knee in the Dreamhack finals, and decided to join us after rehabilitation.
Jab3

Age: 27
Blood type: B-
Eye color: Bright blue
Zodiac: Leo
The one and only; Team Captain and the tactical mastermind of Finnstack. Better known as Liha of Paragon for the WoW players, but fast creating a legend of himself in Dota 2.
Trixi

Age: 22
Blood type: AB+
Eye color: Bright blue
Zodiac: Cancer
Dota.fi ladder #1 for eternity, played HoN with some moderate success in FnaticMSI. Has previously played some competitive Dota 2 in mousesports, but felt the calling of Paragon, as we all have.
Rexi

Age: 21
Blood type: AB+
Eye color: Bright blue
Zodiac: Cancer
Also an ex-FnaticMSI HoN player, has previously played second support for mousesports in Dota 2. Almost as good as JabeofHeaven.
Fragi

Age: 22
Blood type: O+
Eye color: Bright blue
Zodiac: Aquarius
The current MT of Paragon. Most notably has been on a lowcarb diet recently, losing 30kg. Says WoW > Dota 2, but you have to have five people in a team.
---