What is difficulty?
---
[This is not the 10/25 comparison]. 
I've been considering writing about this for a while now, and now seemed like the perfect time. I'm sure I don't need to tell why.
I've never really understood some of the arguments people were (and still are) making in the 10 vs 25 debate (and elsewhere!). I'm probably not very wrong if I say the feeling is mutual with those who write them.
In particular, many think that 10-man kills done by 25-man guilds aren't legit, and it's always the two same points: raid comp and gear. I have a hard time understanding why we take for granted that you need a *good* setup instead of a 'balanced' one, and why some people are having a really hard time understanding that -- particularly some 10-man advocates, but certainly not limited to that bunch. After all, you can get both the comp and the gear by simply running two or more raids. Tedious, I know, but necessary.
Why is this clear as day to me, but simply goes ignored by some when you make the argument?
(Note that I'm not claiming if the kills are 'legit' or not, or whether they should be counted or not. It's just the train of thought.) 
I thought about it a bit, and I think the root is in the way we view the fights and the difficulty. I present to you, in all its Excel chart magnificence, objective and subjective views of difficulty: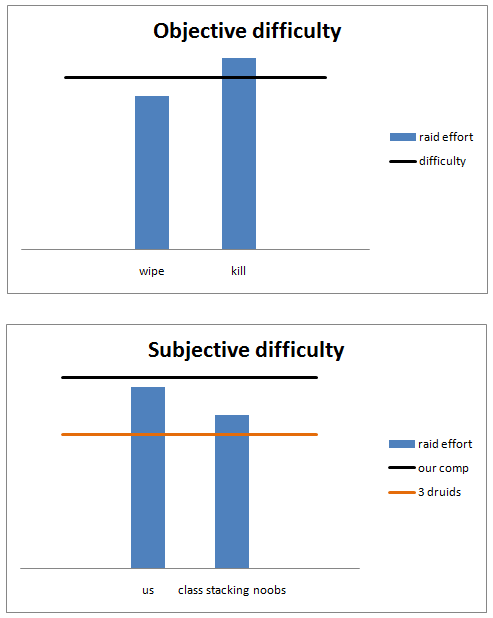 The horizontal line represents the boss fight, and all the things you cannot influence. Conceptually, if your 'raid effort', for the lack of a better term, goes over that line, you can proceed to divide loot. If you come up short, you've got a few minutes to afk during the corpse run.
In our minds, the line is the difficulty. It represents everything we can't touch. It's absolute. It's the same for everyone. Everything we can do with tactics, raid optimization, and player performance is represented in the raid effort bar. This boss-centric, objective view comes very naturally when you're racing for the world first. The bosses are the same for everyone (or should be anyway, after-kill hotfixes aren't very nice), so it makes sense to conceptualize it like that.
But why should I care if I was just about to get a server 4th kill? If only we had two more druids, the boss would be so easy. You can't really even influence the setup that much, since you're playing with friends. Not everyone has time to level up another character, not to mention raid with it. On paper you might have control of some things, but in practice you might not have influence over them. So again, it makes sense to think of your possible efforts as the bar, and the fight as the line. Those bastards who got the realm first had access three druids, and you neither do or will have, so for all intents and purposes it's the same thing as the fight actually being easier for them.
 The fight isn't absolute. This is a subjective point of view, focusing on the raid and its capabilities.
Are *you* raiding the boss, or are you raiding *the boss*?
We're doing the latter, and that's where most of the confusion and 'unfair' cries come from. I imagine it's as hard to understand the objective point of view if you're focused on your raid group as it is for me to understand anyone with a subjective view.
This doesn't presentone very important factor in difficulty that well however -- the learning curve. Here's the best I could come up with in a short time: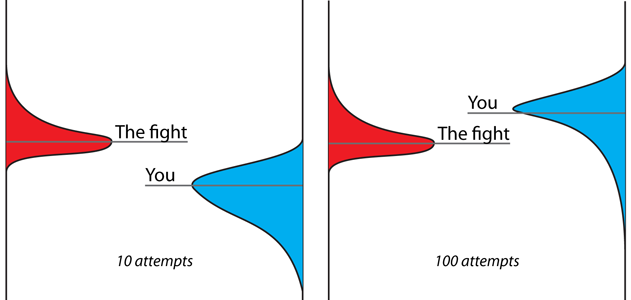 The fights aren't static either, you're going to have some RNG no matter what you do. And I'm sure everyone who's ever raided knows that everyone makes mistakes. The 'difficulty' of the fight for any given attempt is going to land somewhere within some distribution, and so is the sum of all your effort and potential for that try. The distribution of probability for what your raid can do will change with more attempts. That's the progress you're seeing. You'll have less random wipes, you'll cope with RNG, and eventually proceed to one-shot the boss nearly all the time during farm.
Which one is harder, the boss that could be killed on try 30 and took 100, or the boss that could be killed on try 90 and took 95? I'd say comparing different bosses is harder than killing them :)
---