Assembly Summer 2011 blog - The rest
---
This is the rest of the blog from Assembly Summer event held 4.-7.8.2011 in Helsinki, Finland. A few days late, but the memories are still fresh in our minds.
Check all the Assembly pictures at our Facebook profile.
Friday
Alright, gotta admit that the party we had on Thursday night was worth all the hype arx and Verdisha were making. Some epic stuff happened, and we had a lot of fun. Because of the whole deal, the start of Friday morning was a bit slow, with sleepy nerds waking up slowly at arxeno's small apartment. We started the morning with ordering pizza, and splitting up to Hermanni's and arx's car to drive to Assembly around 4pm.
Back to Assembly
There was very little to do at the event, so people mainly played some other games and chilled out and thought about what to do next. I had planned an alt raid with our irl friends, but in the end I ended up being so tired around 10 pm that I just went home and slept like 12 hours. The rest of the people at Assembly watched Starcraft 2 finals at the main stage (which I would have liked to see myself as well), but told me later that the matches were a bit boring and that I didn't really miss anything even when I stayed at home. I enjoyed having the apartment all to myself and read A Dance with Dragons book for a couple of cours before finally going to sleep. Not very Assembly-ish, but at least I wasn't all exhausted on the next morning.
Saturday
The flat full of sleepy nerds again. I love waking up, going to the living room which is full of others waking up and spending the morning talking wow related shit together. We didn't have that much time that morning tho, and we rushed to our nearby shopping center to get something to eat before the raid. In the end we spent a lot more time at our place and getting fed that we feared we might be late to get to Power Play arena to get our UI's sorted out. Luckily we got there at 14:00 (when we were supposed to be there), and at that time the Arena was already full. It turned out the starting time of our raid was wrong in the schedule, and people had to wait more than an hour before we were able to finally start.
The room was a longish hall, and we had 14 computers on the side with spearate screens, so people were able to pick out the pov they wanted to watch. On the caster's stand we had Kruf playing on the big screen, and Verdisha and Total Biscuit were sitting on the other end of the table commentating the raid. The stream went on around 15:20 Finnish time, 20 minutes behind the schedule. I had been getting cinders for the legendary weapon from the alt raid, so I had to sit out the first 6 bosses before Ragnaros.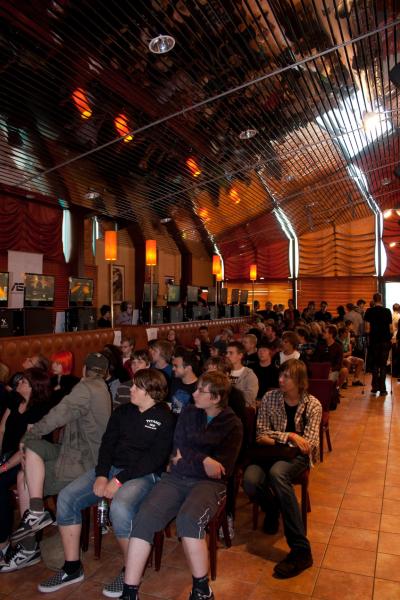 Audience at the live raid
The boys had been busy while waiting for the start of the event, and cleared all the trash to all bosses to speed up the run. We started with Bethilac, and one shotted the boss easily. We managed to do the same with Shannox as well, which was pretty nice considering we usually wipe a couple of times to the boss for various (mainly) stupid reasons. After that our one shot streak completely shattered, as it was Alysrazor's turn. I had had a bad feeling about the boss, as it somehow is the biggest obstacle to us in the instance, after Ragnaros of course. The bird is just too hard. So after too many wipes we finally managed to get it down. Before that, we were able to see a lot of "interesting" deaths, and one try which was almost a kill with a lot of people dying early. After Alysrazor we went for Rhyolith, and wiped a couple of times there because of the ranged forgot their driver's license's home and drove the boss around the volcanos. After getting the boss down, we went for Baleroc and got it down fairly easy. Majordomo went down easy as well, and then it was time for me to finally log in and join the raid when we went for Ragnaros.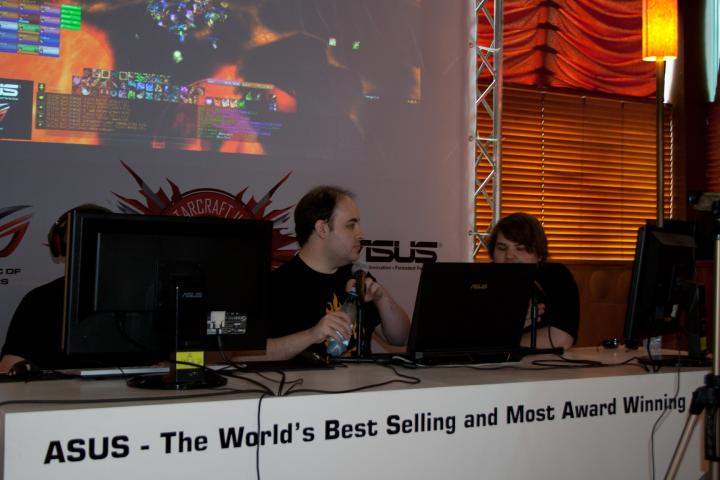 Total Biscuit and Verdisha at it
We had around 3 and a half hours raid time left when we reached Ragnaros, and I was fairly confident that we'd be able to get the boss down in that time. The first pulls were fairly promising also, and even when we had 3 new guys on the encounter, we were able to reach phase 4 with only 2 meteors a couple of times. Then a lot of things started going wrong. Long story short, the boss wasn't dead at 20:00 when our raid was meant to stop, and we just had to admit it and give it up for that night. Of course it felt bad that we weren't able to bring the boss down in so long time, and our viewers weren't able to see the kill live, but that's life. The boss is hard, and we could have played better. So Total Biscuit and Verdisha, who had been talking non-stop for 5 hours, thanked everyone for the raid and we picked up our stuff and went back to our computer places in game lab.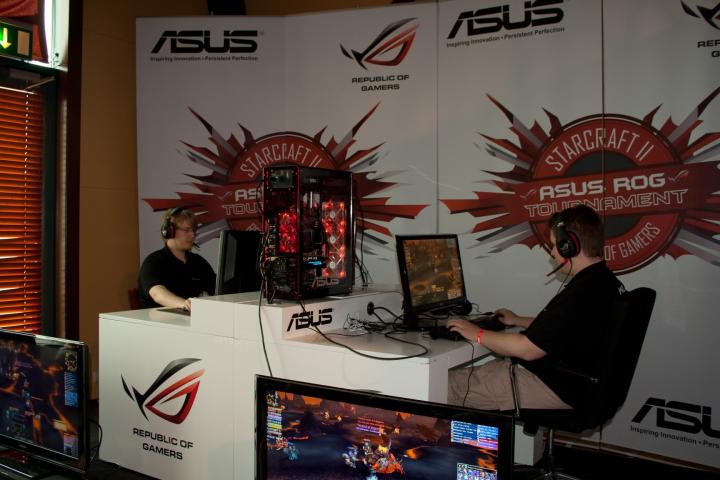 arx and Rakez raiding
It had stopped raining outside, and I gathered everyone up and we went outside to take the traditional group picture. The tradition has also always been that some Finnish internet heroes have made their own versions of the picture. So after we'll publish ours, we'll start waiting for what they can come up with this year. There was some seriusly hilarious stuff there modified in the picture after Assembly Winter 2009, we laughed so hard (and still do, actually). I hope it will be again as good as it was back then.
After getting the picture, and looking at the darkening sky which had rain in the air, it was time to prepare for the evening's celebrations. Arx and Verdisha had of course taken care of all the arrangements, but we were still party place short, as we didn't want to spent the night outside when it might rain. After using almost 30 minutes to make sure we can go somewhere, we finally started packing up our stuff and saying byes to some of our members who wouldn't join us, and other friends we met at the event. When the rest of us drove home to drop off our computers, Fragi and Kruf stayed behind at Assembly. Fragi attented the HoN tournament, and their team ended up winning the whole thing. Kruf wanted to see the demo scene competitions, and they joined us a couple of hours later.
The night was another epic story, we for instance met some other HoN players and some members of another Finnish wow guild, Draama. My advice is that you should't spend 2 hours arguing about shadow priests, that might cause weird things during a party!
Overall, the event was just as we expected: we were able to get together as a guild, meet some of our new members and get to know each other a bit more again. Of course we also met some new people, our sponsors, and did a live raid. Sadly Ragnaros didn't go down this time, but it isn't the end of the world. All in all, we had a lot of fun at Assembly and hope we'll be able to see many of you there next year as well. Also, again big thanks to Asus for inviting us and arranging the live raid, and also to Total Biscuit for commentating it. It was a blast.
---